Tip number one: Become the proud owner of a thesaurus.
As you write, you may have the tendency to repeat common words. We only use so many words in our day-to-day vocabulary so it makes sense that when you write the same would occur. After finishing a chapter, do a word search and try to shake things up when it comes to the common words you use often.
Tip number two: Read what you write.
After completing a section, go back and read it aloud. Make sure the words roll out of your mouth with ease and this will give you a sense of how easy it is to read your work.
Tip number three: Be careful when using auto correct.
If you use a program with auto correct or a feature, which allows you to find and change a certain word, make sure it doesn't change something you didn't want it to.
Tip number four: Get comfortable.
Make sure your surroundings are comfortable to you as you write. This means physically and mentally so there are no distractions. You can easily find your-self rushing the work or thinking of something else which will cause your quality to slip.
Tip number five: Use a dictionary.
Be sure that the words you are using are the ones you meant to use. Too often we make the mistake of using a word that is close but not the one we intended.
Tip number six: Set a limit.
Make sure you know how long you want to write on a given day and stick to it. When you become fatigued, you will make mistakes or you start to rush to finish up and that causes the quality to diminish.
Tip number seven: Write what you know.
Be one with your story. Remain interested in your topic and writing will be fun, making it easier to do. When you step out of the comfort zone, your head and heart won't be in the work and this will show through the writing.
Tip number eight: Contrast and Compare.
Gain knowledge of your genre and try to compete. Don't aim to high out of the gate because you will allow disappointment to set in if you fail. Know the market and just try to be a little better than your competitors.
Tip number nine: Set a goal.
Whether it be a goal for the day or one for your career, know where you want to end up and plan your course. Writing isn't just about putting great words on paper and having people read them, it's about providing a future while entertaining others.
Tip number ten: Don't despair.
Don't let the industry get you down. Keep plugging away and as you do, as with anything, you will get better and better. Expand your vocabulary, expand your knowledge, and expand your mind and this will help create your success.

Book Excerpt:
A sound normally dismissed during mid-day, the lock's scarce clatter rang out like church bells, trespassing on a death like serenity. As tumblers aligned, Varan hoped his crouched frame went undetected on the sage's porch. With his remaining eye, the thief peered over his right shoulder at ghostly shadows cast upon a vacant street. Choking down his heart, he ever so cautiously swung open the door and, after easing into the shop, he gently returned it to its frame. A shaft of moonlight pierced shutters flush, as the lurking thief, through dusty air, investigated a dreary interior. To his left, shelves of musty books, with their worn bindings, all stood erect by ornately carved bookends. In the near corner, to his right, a large silver‑blue sphere, dimly glowing, sat upon a heavy wooden pedestal.
Rafflecopter Code for $100 Amazon Gift Card/Paypal Cash:
Click here to enter the giveaway!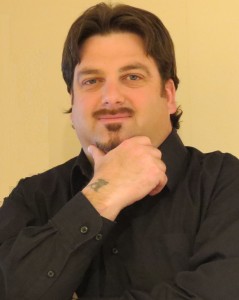 ABOUT KRAIG DAFOE
Kraig Dafoe was born in Potsdam, New York and grew up in Canton. He played high school football and joined the United States Army Reserves at the age of seventeen.
Kraig married at the age of nineteen and moved to Virginia Beach, Virginia where he worked as a Private Security officer for The Christian Broadcasting Network and also attended the Tidewater Community College for business.
After five years as a security officer, he became a Deputy Sheriff for the city of Chesapeake Virginia.
Kraig left the Sheriff's office after nine years of service and pursued a couple of different business opportunities before he went on to publishing his debut novel.
Kraig is the father of five children and he currently resides in Kansas, raising his youngest son.
His latest book is the fantasy/adventure, Search for the Lost Realm.
Visit his website at www.kraigdafoebooks.com
Connect with Kraig: FACEBOOK

ABOUT SEARCH FOR THE LOST REALM
Search for the Lost Realm is an epic journey in which a young man named Varan wants to find a power which has been missing from the world of Kantania for thousands of years.
Varan sets out but soon discovers his true mission is to save the worlds creator from a spiritual bond placed upon him by the powerful demon, Eldrok.
From demons to dragons and sorcerers to soldiers, battles erupt and Varan must hurry or the world could be lost to darkness forever.
This story does not consist of action alone as Varan faces dilemmas of the heart, struggles of the flesh and complex issues of the mind.
PURCHASE: